Clarens Brewery
Posted on Mon March 2, 2020.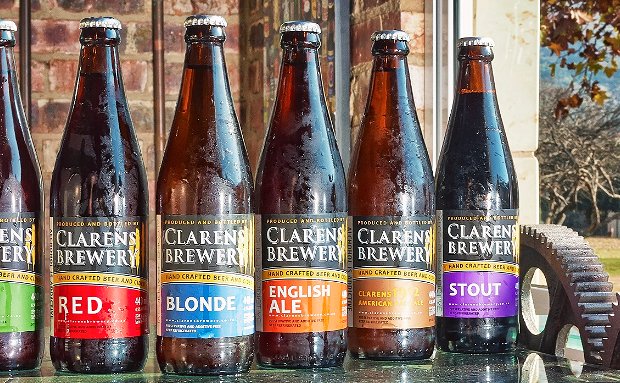 Clarens Brewery is one of the country's first Brew-Pub, Cidery and Distillery set in the foot-hills of the magnificent Maluti Mountains where their fun-loving team has the thrill of brewing, talking, serving and enjoying great beers, ciders and distillate, all whilst being part of the fantastic craft revolution that is sweeping our country.
About Clarens Brewery
Their brewer, Stephan Meyer, is a true beer lover and was blown away by the variety of beers during a trip to the UK in the early 90's and could not wait to start brewing his own. Their pure fruit ciders were born of a need to use all the fruits of our apple and cherry orchards and making cider is so much more fun than making jam!
The love of brewing and distilling drives them to innovate and develop new products all the time. Their passion for this fledgling industry motivates them to talk to, educate, challenge and transform the novice or traditional consumer into a craft aficionado and to engage with fellow-brewers to constantly learn, share and brew!
What they do
Clarens Brewery brews 8000 litres a month on a 800 litre stainless steel system. They hand craft full-grain ales with the finest malts and hops sourced both locally and internationally with no compromise on quality and have been doing so since 2006.
They have 8 ales in our standard range complimented by various seasonal ales and festival specials. Winter in their neck of the woods can be severe but love it since they brew Trappist style Ales to bolster them through.
Stephan built the majority of the brewery himself from reclaimed vessels from the dairy and chemical industries – a fact that he is very proud of.
They brew close to 200,000 litres of cider under their Red Stone Cider label each year on a belt press imported from Austria in 2005 with apples, berries and cherries sourced from the local farmers. They have a range of fruit juices as well; Apple, Cherry & Pineapple.
They distill both whiskey and apple brandy in a 1000l column distill affectionately called The Hunkeler. (It's a long story). And finally (for now) their Red Stone range of fruit liqueurs are all made from local fruit.
They offer free tasters and brewery tours and have a delicious lunch menu focusing on German style sausages, local organic cheeses, local breads, relishes and pickles. And their own cherry or apple juice is free for the little ones.
Why they do it
Besides a great love enjoying fine beers they're on a mission to provide the best quality beers and ciders that they possibly can and to sway a commercial beer or cider drinker into starting the journey of discovery into the delicious world of craft beer and cider.
For them, the kicker is seeing the faces of our visitors as they go through the taster panel and finding a favourite. They love explaining the nuances, flavours, styles, techniques and more.
It's important to them to support and grow the industry and they work hard, every day, at building its image, creating a demand and preaching the craft-gospel.
Most of all they love their brewery, their team, their little village and of course, beer!
Article from Clarens Brewery website