"This restaurant is another hidden gem in Clarens". Put our reviews to the test.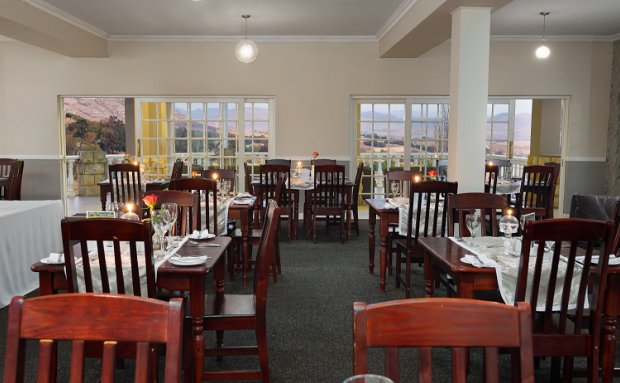 People come from all over to visit our beautiful little town, Clarens. They love it for many of the same reasons we do, but there's one thing about this little corner of paradise that gets our kitchen staff at La Vue Parfaite particularly excited...
Clarens and the surrounding farmlands are bursting with ample fresh, high-quality ingredients that are just waiting to get harvested and served to eager restaurant guests. This high availability of fresh produce forms the basis of our traditional meals at La Vue Parfaite and allows our chefs to create novel dishes as interesting ingredients come into season.
Read this blog to get a taste of La Vue Parfaite restaurant's delicious meals made from locally sourced ingredients and see what our patrons have to say about it.

Food
Our chefs enjoy being creative with the freshest, seasonal ingredients to make inspiring new dishes that will make you wonder why you have never had these combinations before. Of course, fresh, local ingredients also make for the best traditional meals, so be sure to try some of your old favourites at La Vue Parfaite.
If you're a traditionalist when it comes to food, let us spoil you with a tasty juicy steak or a hearty oxtail.  You could end with a delicious malva pudding – just like your granny used to make. If you enjoy more adventurous dishes like curries, you should know that our Thai Green Curry and our Moroccan Beef Curry have been making some waves on social media ever since we had it at our stand at Clarens Craft Beer Festival in February. This is the perfect meal for those cold winter nights at the foot of the Maluti mountains.

Ambience
You'll always be welcomed with a big smile at our elegant – yet down-to-earth – restaurant. If it's a chilly winter's evening, settle in next to the crackling fire with a glass of red wine and admire mountain views through our large windows. If, however, it's a warm, clear evening, why not go breathe in fresh mountain air on the balcony?  Enjoy one of our signature cocktails as a sundowner before dinner and let the purple hue on the mountains ease you into a relaxed mindset for your dinner at La Vue Parfaite.

What do our guests say?
We're great, but don't take our word for it. Have a look at some of the reviews we received:
"This restaurant is another hidden gem in Clarens." – Yolanda Venter
"We stayed at the Mont d'Or Hotel and went for supper at their restaurant one night. Their fillet steaks are the best fillets we have had, we had it with samp, very good! Their buffet breakfast also very good! Very friendly helpful staff." - Carin
Here's some of our staff members at the Clarens Craft Beer Festival. 
The proof is in the pudding – come and try it yourself.
So, now you've read all about our delicious food, stunning service and wonderful ambience, but – like any good chef would say – the proof is in the pudding (did we mention we have amazing malva pudding?). That's why we want to invite you to come and try La Vue Parfaite for yourself. In fact, why not make a weekend out of it? We're currently running some great specials so, click hereto see how you can get free cocktails and massages during your stay at Mont d'Or Clarens. We hope to dazzle you with some scrumptious meals at La Vue Parfaite soon.